The Product
Used by many businesses globally, Environmental Biotech's GreaseBlast system is a cost-effective natural way to permanently free your drains from FOG (Fats, Oils and Grease) that account for over 75% of drain blockages.
The wall-mounted GreaseBlast automatic drain dosing system routinely delivers non-toxic live vegetative bacteria directly into the drain line or grease trap. The bacteria simply consume the drain-clogging FOG, turning it into H2O and CO2
GreaseBlast's multi-strained bacteria are specifically cultured for use in drain lines, and are proven to:
• Constantly maintain free-flowing drains using a 'biofilm' forming bacterial action
• Eliminate food related drain odours
• Save on unnecessary reactive plumber call-outs and drain maintenance
• Help food service operatives meet tight legislative demands
The Problem
The disposal of high volumes of FOG (Fats, Oils and Grease) from commercial kitchens is unavoidable.
What is avoidable is the resulting blockages, slow drainage, and bad odours, which have an untold effect on health and hygiene.
FACT:
The Environment Agency estimates 75% of sewer blockages are caused by the build-up of FOG, equating to 75,000 environmental incidents each year.
The traditional 'patch-job'
Chemicals, enzyme systems, and surfactants (soaps) will not solve the problem. Instead, they simply relocate the issue further into yours, your landlord's or the water authority's drain system.
Many resort to jetting or routing through mechanical cleaning, which can damage pipe work as well as failing to resolve the issue.
In the meantime, the costs associated with your own repairs and cleaning, not to mention the major risk of fines from water authorities, continue to be a real threat to the operation of your business along with a loss of business from kitchen downtime.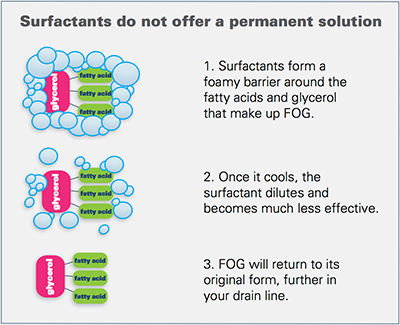 Tried & Tested
GreaseBlastTM's formula is the result of over 20 years' research at Environmental Biotech's company-owned R&D facility in Florida, USA.
There is a reason why McDonalds use Environmental Biotech's bacteria at every drive through across the UK and why Costa Coffee chain relies on the same formula to take care of its sugar build-up.
GreaseBlastTM
GreaseBlastTM can be used in conjunction with a grease trap, where it is dosed prior to the trap, or as a stand- alone way of tackling the build-up of FOG.
INSTALLATION
Saving on valuable floor space, GreaseBlast is wall mounted and very simple to install and operate.
GreaseBlast can be fixed anywhere in a kitchen or facility and its stainless steel finish compliments existing fixtures and fittings. The GreaseBlast tube is simply inserted into a drain where the bacteria can be dispensed.
The non-toxic, non-corrosive ready-mixed containers of bacteria are incredibly easy to change over and install.
The unique control valved and dispensing technology removes the need for daily maintenance normally required by kitchen staff.